Edinburgh Castle hosts world premiere of spectacular stunt by scientist and magician Kevin Quantum
Thousands around the world expected to gather online on 29th April at 1pm to watch internationally acclaimed performer attempt daring stunt at Edinburgh Castle.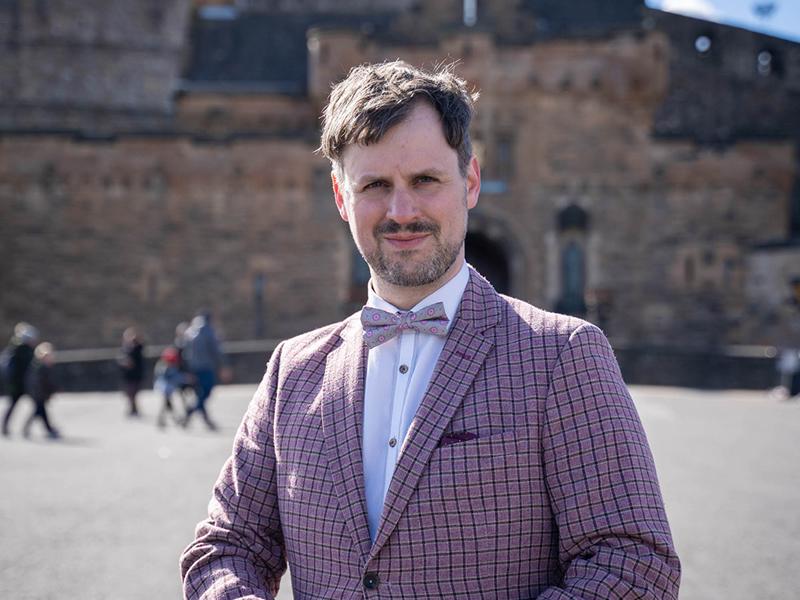 Article Source: Kevin Quantum
First Published: 22 April 2021 14:22
Updated: 22 April 2021 14:22
A week today, at 1pm on Thursday 29th April, scientist and magician Kevin Quantum will celebrate the journey out of COVID-19 adversity by staging the world premiere of a spectacular demonstration of courage, optimism and harmony at Edinburgh Castle.

Broadcast worldwide on YouTube, the premiere of Flaming Cannonballs at Edinburgh Castle will show Quantum relying on science, self-belief and hope as he attempts to walk blindfolded through nine flaming cannonballs swinging from a huge pendulum on the ramparts of the capital's iconic landmark.

If his scientific studies of the pendula's patterns and calculation of the precise magical moment the cannonballs harmoniously align, Quantum will emerge unscathed from his daring stunt at precisely the moment Edinburgh's famous One o'Clock Gun is fired.

In the run-up to his fearsome feat, Quantum has released a trailer which can be viewed HERE

Internationally acclaimed magician Quantum, also known as Kevin McMahon, lives in Edinburgh and his last performance was as a semi-finalist on ITV's Britain's Got Talent. He has gained exclusive access to Edinburgh Castle to stage his dramatic performance in the shadow of Mons Meg, the famous Medieval Bombard and one of the largest cannons in the world. His stunt will mark the moment the country begins to open up after life in lockdown and people celebrating the chance to reconnect with friends and experience the joy of live performance.

While anyone within a two-mile radius of Edinburgh Castle will be able to hear The One o'Clock gun go off, Quantum is inviting people across the city, Scotland, the UK and around world to connect with the performance and each other by watching the premiere on YouTube.

Edinburgh Castle, which reopens to the public on Friday 30th April, has been chosen because the One o'Clock Gun once connected the city to Leith Docks where ships' captains would set their maritime clocks by the gun. The soundwave travels at around 760 miles per hour, the speed of sound which was studied by Austrian physicist Ernst Mach.

Mach also created the Harmonic Pendulum; a beautiful, hypnotic visualisation of harmony.

For his performance, Quantum has created his own industrial-sized version of Mach's pendulum. The 12ft-high steel structure features a gauntlet of nine swinging, flaming cannonballs each weighing 15 kilogrammes.

Quantum explained: "It's been an incredibly tough 12 months for everyone but with lockdown restrictions easing, there's a new sense of hope and optimism on the horizon. We've got science to thank for creating a vaccine for COVID-19 and helping us overcome what appeared to be almost impossible odds. As a scientist and magician, I want to celebrate this important moment in time with my own special twist and share a sense of hope with people not just in Edinburgh but around the world."

"I'm going to attempt to walk through these flaming cannonballs by relying on science as well as my own sense of hope and belief in harmony to get me though. If I emerge safely from this dangerous gauntlet, the One o'Clock gun firing will signal my moment of triumph over adversity, but also signal everyone's emergence from the challenges of the last year."

Emma Bowie, Events Manager from Historic Environment Scotland's Edinburgh Castle team said: "We are delighted to host such a wonderful spectacle at the Castle with Kevin and his team performing a spectacular stunt and world premiere set to be enjoyed by many thousands as it goes out live on YouTube. Just don't try this at home – or The Castle for that matter. Simply tune in and enjoy the work of a world-renowned illusionist as he brings his magic to one of Scotland's most iconic sites."

Quantum originally studied Physics but his life took a new turn into the world of magic after he appeared in Channel 4 programme, Faking It, in 2005. In the show, which was watched by around seven million people, he convinced a panel of judges, including Paul Daniels, into believing he was a professional magician after just four weeks of training.

After later being trained in Las Vegas by the world-renowned magicians, Penn and Teller, Quantum went onto to perform at the Edinburgh Festival Fringe in 2006. In 2010, he founded The Edinburgh International Magic Festival, also known as MagicFest, and has worked extensively in Edinburgh and around the world.

In addition to reaching the semi-final of Britain's Got Talent in 2020, Quantum also reached the final of Italy's Got Talent, and his YouTube videos have been viewed millions of times. Earlier this year, he educated children about gravity on BBC Bitesize during home schooling lockdown.

Flaming Cannonballs at Edinburgh Castle is a Kevin Quantum event conceived and produced by The Derring-Do Partnership and filmed by Edinburgh video specialists Heehaw. It will be broadcast on Kevin Quantum's YouTube channel.

Photo credit: Bartek Furdal


Got a story to share? Send us an email at hello[@]whatsonnetwork.co.uk
Latest Fife News
Sponsored Links
Popular Events
Burntisland Fairground returns this summer! Situated on the links just yards from a Blue Flag beach, this traditional funfair provides all you need for a great family day out.
Bowhouse Market Weekends are a celebration of the best food and drink from Fife and beyond with a host of food and drink producers and the opportunity to try a great selection of street food.
The Makers Market at Falkland is hosting a Craft Fair in Letham Village Hall on Saturday 19th June!
The Aberdour Festival is possibly the best festival of the Summer, each year playing host to an exciting and packed programme of events!
Are you really brave? Then Horr'Ore is the Halloween event for you. Created within the eerie woodland at Lochore Meadows.
Popular Venues