Dance Base Scotland announce a celebration of creativity, movement and connection
Dance Base Scotland present a night of performance, movement and celebration, all filmed from their studios in Edinburgh and streamed to audiences across the world.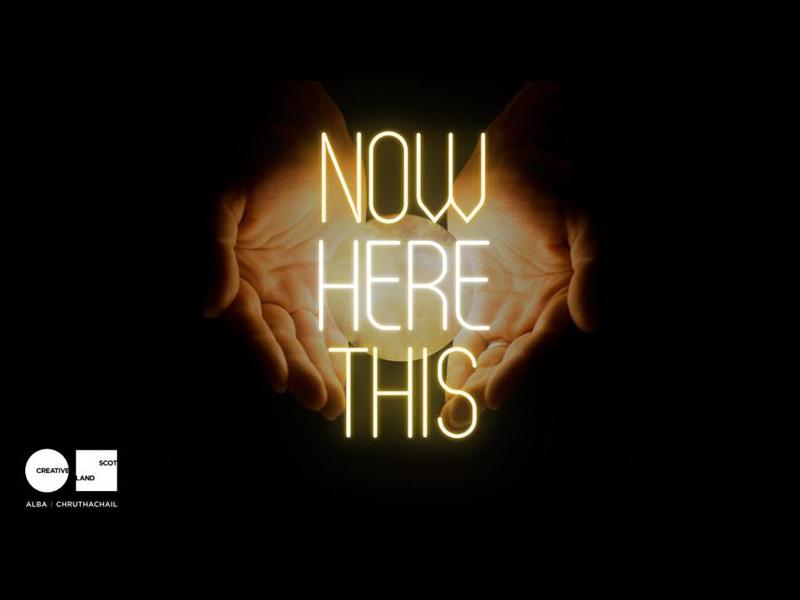 Article Source: Dance Base Scotland
First Published: 11 December 2020 12:46
Updated: 11 December 2020 12:47
Dance Base Scotland announce a celebration of creativity, movement and connection-Now Here This.

Dance Base Scotland present a night of performance, movement and celebration, all filmed from their studios in Edinburgh and streamed to audiences across the world.

The team at Dance Base are never happier than when there are people dancing in their beautiful building and when they can welcome audiences in to enjoy the energy again. However, in March the doors closed, and although the studios have been used by professional dancers since June, they've yet to bring dance performance back.

That will change this December though as Dance Base are supporting Scottish dance artists and collaborators to bring the Grassmarket building to life, and share directly with audiences, with Now Here This.

Featuring new and reimagined performances by Alan Greig, Bridie Gane, Katie Armstrong & Lewis Normand, Oceanallover, SALTYDOLLS and Shaper/Caper, the filmed performance will guide you through Dance Base's beautiful Grassmarket home, discovering dance and performance in familiar (and some unfamiliar!) spaces.

Including live music, physical theatre and contemporary dance, this guided journey around Dance Base will not only celebrate the incredible range of dance and movement that the organisation champion through their work, it will also bring life back into this treasured Scottish venue ahead of the new year.

Morag Deyes MBE, Artistic Director of Dance Base said: "We are so proud to present this amazing programme of dance, music and theatre. We've have mashed up the glamour of film, the wonder of our gorgeous studios, and the abundance of professional dance talent here in Scotland to bring audiences a uniquely curated programme of performance by some of the brightest stars of the Scottish dance world to light up the winter darkness. We hope as many people across the world/ UK tune in and be dazzled and inspired by these talented performers"

The full Now Here This performance will premiere at 19.30 on Thursday 17 December on www.dancebase.co.uk YouTube and Facebook

The films of each performance will be accessible on Dance Base's website following the 17th so audiences can enjoy them at anytime. Some additional gifts from Dance Base will be announced in the days following on their social media channels.

Now Here This is one of the many and varied artists commissions Dance Base Scotland has been proud to initiate thanks to support from Creative Scotland with funding from Scottish Government via the Performing Arts Venue Relief Fund – essential support for the sector which aims to reconnect artists, audiences and venues after this time of separation. The curated artists were chosen by a panel consisting of Dance Base's Artistic Director Morag Deyes and members from the Dance Base Artist Advisory Group. The panel are excited to see the works brought to life

About the shows:

Within Reach by Alan Greig

A solo dance show that uses text, theatre, movement and choreography. These solos are written and performed by Alan Greig. Originally conceived as a live show, Alan has reworked the creative ideas for film and portrays diverse characters including Kate Bush, Quentin Crisp and Hollywood screen icon Joan Crawford.

Reception by Bridie Gane

Trapped inside the building ever since it was closed, two Dance Base receptionists await any action, creating their own entertainment to pass the time and slowly driving each other crazy.

Stronghold by Katie Armstrong & Lewis Normand

Working across film, movement and sound, Stronghold is a collaboration between dance artists Katie Armstrong and Lewis Normand and musician Signy Jacobsdottir. The work is inspired by the unique architecture of the Dance Base building. Stronghold explores the themes of absence and presence and draws influence from conversations with the people who bring life into the building.

Ecdysis (In Vivo) by Oceanallover

Ecdysis (In Vivo) is a dance, music and costume experience inspired by the species of reptiles that are found in the wild in the UK. Reptiles must shed their skin in order to grow; this process is known as ecdysis and without such a process of renewal their life would not be possible. We must all make such changes, either internally or externally throughout our lives. Ecdysis (On Vivo) is a collaboration between Oceanallover and leading electronic music producers from London and Bristol. It is an energetic invitation to dance and invites us to consider what we must slough off in order to move forwards.

BEANS, WALLS, BABES by SALTYDOLLS

IS ANYBODY THERE, BABE? I'M GOING OUT OF MY MIND OVER HERE!
Two women sit alone, seemingly together but separated by a division. Cans lay strewn across the floor. BEANS WALLS BABES is a simple piece about isolation, connection and the power of knocking on walls.

The End? By Shaper/Caper

Winter. Lockdown. A phone call...
Enter a world where everyone is telling you who you should be. Where 'their' opinion on your gender is more important to them than your existence.
Inspired by Cocteau's The Human Voice, The End? captures LGBTQ+ experiences collated during nine months of lockdown.

How to watch:

Tune in at 19.30 on Thursday 17 December on YouTube or Facebook or at www.dancebase.co.uk

This event is FREE to attend. Donations are welcome to help support Dance Base: Donate


Got a story to share? Send us an email at hello[@]whatsonnetwork.co.uk
Latest Fife News
Sponsored Links
Popular Events
Come along to St. Andrews Farmers Market and find a wide range of artisan producers come together selling delicious food and specially made crafts!
Artisan Fridays is a weekly hot & cold food market, held every Friday on Kirkcaldy High Street!
Bowhouse Market Weekends are a celebration of the best food and drink from Fife and beyond with a host of food and drink producers and the opportunity to try a great selection of street food.
Get along to Cupar Farmers Market, offering a great range of produce, on the third Saturday of every month!
The Alhambra Theatre presents the Christmas Panto 'Cinderella' from 8th to 27th December 2021.
Popular Venues